Find a serviceman to improve the outlook of your home especially the appearance of it from the front such as the driveway area.
Imagination only goes so far with designing the front of your driveway and this is why you need to choose listed contractors to build driveways professionally.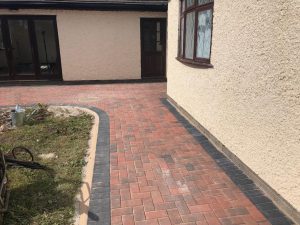 You can opt for options on driveways including block paving, tarmac driveways, gravel and concrete to create durable and bespoke entrances.
The most common choice by people is driveway paving. With endless options on colours, patterns and designs. You can lay it in a range of patterns and a proper contractor will be able to give you multiple options to make it unique.
Here is a good guide on how a new driveway will improve your home.
Another choice is choosing a tarmac driveway which can laid as tarmacadam, tar and chip or as an asphalt driveway. With bordering and edging around it enhance the overall look such as granite cobbles or block paving borders.
Gravel can make an outstanding choice for someone looking to save some money on larger driveways with multiple colours and sizes. Suitable for any parking areas. Just make sure you put in membrane sheeting to stop any weeds poking through after a few months.
SOME PAVING CHOICES
STRETCHER BOND
stretcher bond is generally used on pathways and garden areas. The benefit a stretcher bond is it can be laid without any real type of cutting required. It can be curved gradually to go around pathways.
Stretcher bond is also commonly used as a laying pattern for a border around driveway. You will often see it laid in singular strips or double strips around a driveway.
HERRINGBONE
herringbone pattern is most commonly laid pattern of block paving. The reason for this is because of interlocking. When you look at the side of the block pavior you will see little protruding sections under pavior.
This is to ensure a gap for kiln dried sand and also to lock the paving in place. We would always recommend standard block paving on driveway 45° or 90° herringbone pattern. If in doubt, get yourself a recommended driveway installer with O'Brien Driveways.
BASKET WEAVE
the basket weave pattern is very commonly used on patio areas it can be laid in groups and provided you have mapped out your area correctly you won't to carry out any cuts to your paving. As a decorative pattern it looks very nice however for heavy traffic areas would not recommend this pattern
OFFSET / STAGGERED
The offset staggered pattern is generally used with a form of block paving known as Tegula paving or cobblestone style paving depending on which manufacturer you use.
It can be laid in a variety of sizes ranging in general small medium to large sized paving. You can opt to lay this pattern using all three varieties or using a single a variety if you choose to use a single a variety we recommend opting for the larger medium-size. The small size makes it very hard to offset the lines due to the size of the block.